BOOKSELLER AND PUBLISHER of historical cricket books, particularly the works of Arthur Haygarth.
Have a look at the titles available to purchase, including the Scores and Biographies of cricket historian Arthur Haygarth, or visit the Other Publications section for titles from Arthur's biographer, the bookseller and publisher Roger Heavens.
BREAKING NEWS - NEXT S&B VOLUME COMING SOON
Arthur Haygarth's SCORES AND BIOGRAPHIES Volume 18 (XVIII)
This volume, which covers the year 1881, is now ready for production. The MS is with Roger Packham for final checking and I should therefore be in a position to instruct my printers by the end of January.
In the past I have subsidised the books but now I have retired this is no longer possible. Increased costs of production coupled with the nature of this niche market have unfortunately forced me to increase my prices but I hope that my loyal customers will continue to support his special venture.
The book will contain a special limitation page signed by me as editor and also a list of subscribers. I anticipate that only 150 copies will be printed. In all other respects, the specification of the book will be as for previous volumes. It contains over 600 scores and 77 biographical entries and has a total of 573 pages. Its price is £100, including postage and packing.
There is still time to subscribe but I would need to have your confirmation and payment by the end of December. After that date the subscribers list will be closed and I will be issuing the printing instructions.
Highlight
In 2009 Sussex CCC formed a Charitable Trust to take full responsibility for all the club's many historic treasures. Their Terms of Reference are simply to protect them, add to them and enable people to enjoy them, whilst encouraging as many young people as possible to explore the wonderful world of cricket.
This is a very worthwhile project and I would encourage all my customers to become members – the cost of which is only £10. Please look at my links page for the link.
Highlight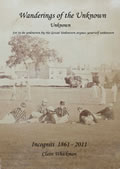 Have a look at the Incogniti book by Claire Whickman as I think it is well worth buying.
This is the story of the Incogniti Cricket Club, acknowledged as the third oldest wandering club after I Zingari and the Free Foresters. It started with eleven men, some if not all, recently having finished their schooling at Godolphin, Hammersmith, in a match on 25th May 1861 at Lord's cricket ground. With no boundaries, no declaration, a 4 ball over, under-arm or round-arm bowling and long-stops, cricket was then a significantly different game. Bowling was so much the lesser part that no analysis was kept – scoring 50 runs was considered as great a feat as a hat trick! The conditions acceptable for play were also considerably different - even Lord's had a rough wicket and ridge and furrow in the outfield. Play would continue through drenching downpours and on into darkness. Cricket had a long way to go to become the game that we know today...
Latest publication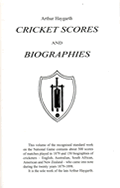 £65
This volume continues Rowland Bowen's intention of completing Haygarth's "Museum", as he called it, and takes the series to the end of 1880. There are details of almost 575 matches, the majority of which have never been published until now together with over 80 biographical entries. There are also errata and addenda to previous volumes which include a newly discovered game of importance from 1874, involving Pooley's New All England XI which, had Haygarth been aware of it, would certainly have been included. Matches abound from the Antipodes, Africa and the Americas. There are also some surprises with references from the Asian continent. As you might expect, all the M.C.C. scores are within the book, together with most of the warm-up games played by the counties together with every Australian encounter during that year including all supplementary matches. There are also details of the eventually abortive Canadian tour when the captain was arrested by the British military for desertion in an earlier life. His escape and recapture are all dealt with! Matches involving the Band of Brothers, the Cambridge and Oxford Colleges, the great schools, the forces teams, and eccentric teams such as I Zingari, Free Foresters, Orleans, Will o' Wisps and Incogniti abound. The general meetings of the counties are covered together with the laws of cricket for that year. Teams that failed to trouble the scorers together with others that batted so long the opposition never got a bat are all there in yet another fascinating trawl through the sport in this Victorian year. The layout of the new volume will match the previous books to preserve the Victorian feel, which I feel is important.