Other publications
THE MONTPELIER CRICKET CLUB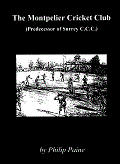 Paperback £14.99
This important book is limited to 250 copies and all are signed and numbered by the author.
This club was the predecessor to the Surrey County Cricket Club and this new history fills many gaps relating to early years of Surrey Cricket. Philip Paine, the author of the series of valuable books on the location of the graves of many cricketers, has spent three years researching the Montpelier Club and has unearthed much new information including importantly the exact locations of their various grounds.
Vijay Merchant - In Memoriam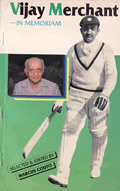 £ 8.00
A 122 page booklet published in 1988, a year after the great player's death, contains many tributes from amongst others Sunil Gavaska, Polly Umrigar and Vasant Raja. It contains many delightful photographs of the great batsman, who averaged 71 in first class cricket. Edited by Marcus Couto it provides a wonderful insight into one of the heroes of Indian cricket.
Only a limited number of copies are available – first come first served.
Duleep - A Centenary Tribute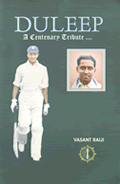 £ 5.00
Published by the Cricket Club of India in Mumbai this little booklet has been very well received in this country and is a fitting tribute to the great Sussex and England batsman. It contains accounts of his first class matches in India with contributions from Sir Robert Menzies, Don Bradman, Jack Hobbs, and many others.
Story of the Bombay Tournament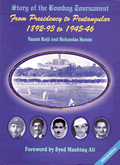 £ 30.00
From Presidency to Pentangular 1892-93 to 1945-46
Vasant Raiji and Mohandas Menon
I am also able to provide copies of the above, published in India last year. This in 107 pages details all the games with copious amounts of photographs together with averages and short biographies of the major players including Frank Tarrant, Vijay Merchant, Vinoo Mankad and Lala Amarnath. The original tournament was set up by Lord Harris and well known English players who participated included CB Fry, Wilfred Rhodes, Duleepsinhji, and Denis Compton.
The price of this important book is £30 - Signed copies by both authors at £45
The Nutters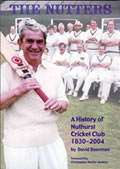 £ 10.00
David Boorman's first book concerned the colourful history of Nuthurst Cricket Club from 1830 until 2004. This small Sussex club just outside Horsham is a must for anybody interested in early club cricket and is full of interesting photographs. Only a few copies left at the reduced price of £10.
Parsi Cricket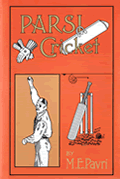 £ 20.00
This is an exact facsimile of the classic Indian book by ME Pavri (Padwick 462; 3876) and contains hints on bowling, batting, fielding, captaincy together with a fascinating description of the laws on cricket which presents in some ways a different slant on them. Again only a few copies are left of this Indian publication at £20.
The Legends Club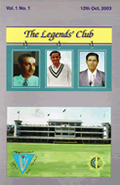 £ 3.00
This club was set up to celebrate the lives of the 3 'V's – Vijay Merchant, Vijay Hazare and Vinoo Mnkadd – in 2003. Run along similar lines to The Masters Club (Jack Hobbs) here in England this booklet provides useful background to the three players.
The Year of the Magical Martlets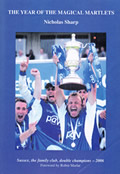 £ 15.00
Nicholas Sharp – perhaps Sussex's greatest supporter – produced the second volume about what has turned out so far to be a trilogy of books celebrating Sussex's recent successes. This book chronicles match by match the 2006 season when also won the C&G Cup at Lord's, in a style which shows Sharp's fantastic enthusiasm.
Good Old Sussex By The Sea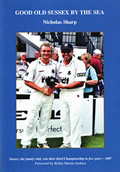 £ 15.00
The third, and perhaps last volume now that Mushtaq Ahmed has been forced to retire, follows the same format as the previous volume and of particular interest to enthusiasts is the final chapter – The longest afternoon – which outlines the experiences of various Sussex supporters (including one Roger Heavens!), as they waited to see if Lancashire managed to chase down the improbable score of 489 at The Oval.
[If you would like to have both Sussex books they are reduced to £20]