About Roger Heavens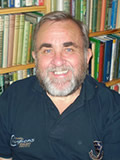 Roger Heavens was born in 1948 in East Ham, London. His paternal grandfather used to tell him about watching Ranji batting at Hastings and hitting the pavilion clock. After moving to Sussex, aged seven, Roger developed a lifelong love of cricket.
A member of the County Club at Hove, he also played for, and is still closely connected with, the Cuckfield Cricket Club in the heart of the county. He is the club archivist and has built a formidable historical data base.
Roger is also working towards a full biography of Arthur Haygarth and is generally acknowledged as a leading expert on this Victorian cricketer and important historian. He has lectured on Haygarth to many cricket and historical societies. He has arranged for commemorative plaques to be erected on the buildings where Haygarth was born (Hastings) and died (Pimlico). Distinguished historian David Frith unveiled the former and Christopher Martin-Jenkins of The Times and Test Match Special the latter.
Roger has republished all the original volumes of Haygarth's Scores and Biographies and compiled and published a usable series of indexes which together bring these rare books to a much wider audience. Importantly he has prepared and published, from Haygarth's notes courtesy of the library at Lord's, volume sixteen and is working on volume 22 (1885).
He has also given talks on the history of cricket and collecting cricket books.
He was Chairman of the Hertfordshire Cricket Society and, besides Sussex C.C. is a member of M.C.C., Cambridge University C.C. and The Forty Club. Roger actively supports The Association of Cricket Statisticians and Historians (where he is one of the book reviewers), The Cricket Society and The Cricket Memorabilia Society and is often found at various meetings as well as games around the country. He and his wife, Sally, are both qualified cricket umpires.
The aim of his publishing venture, which has produced more than 50 books and pamphlets, is to produce useful research information linked to high quality facsimile rare books at affordable prices and they reach an audience that might otherwise be denied because of the prohibitive cost of some of the rarer items. Although there is an emphasis on the history of the game, this has not precluded some more modern items appearing in the portfolio. Well known cricket authors David Rayvern Allen, Robert Brook as well as Frith and Martin Jenkins have provided forewords to a number of the publications.
Roger is retired, married with two children, and now lives in Lincolnshire.