Arthur Haygarth's Scores & Biographies
These twenty volumes are the major source books about the history of the game. All cricket writers and historians use these books whether they acknowledge them or not. "Few books, other than the Bible or Shakespeare can ever have been thumbed so freely and cribbed from so flagrantly" said HP Thomas, a later well known cricket historian.
The first 14 volumes were published between 1862 and 1895, they covered the game in unbelievable detail from its beginnings until 1878. Volume 15 was published in 1925. There are more than 10,000 pages with 5,000,000 words in these books, and they record more than 10,000 scores with nearly 1000 biographies. All volumes are becoming increasingly rare and the publication of the reprints represented a unique opportunity to obtain a set which usually can only be found in libraries. Most of these have now been sold but some are still available – please click the link to the facsimiles page.
"I find I'm referring to S&B almost constantly, and it's rare for the entire set to be on the shelf at the same time – Richard Lawrence, Book Review Editor, ACS&H.".
"His works [Haygarth's] must be the quarry for anyone who is interested in early cricket" Peter Wynne-Thomas, President, Nottinghamshire County Cricket Club.
"The most valuable information document for cricket historians as is ever likely to appear" Robert Brooke, ACS&H and The Cricketer.
"Wisden's honoured ancestor" Matthew Engel, Editor, Wisden
"For serious students of the game …" Christopher Martin-Jenkins, The Daily Telegraph.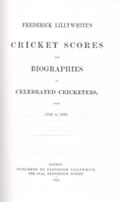 Volumes 1 and 2 were first published in 1862, 3 and 4 in 1863, 5 and 6 in 1876, 7 to 9 in 1877, 10 and 11 in 1878, 12 in 1879, 13 in 1880 and 14 in 1895. F.S. Ashley Cooper produced Volume 15 in 1925 using Haygarth's manuscripts held at Lord's.
The first reprint was published in 1996. They then reappeared annually until 1999 when production was switched to two volumes per annum, the exception being 2003 when only the 13th book appeared. Volume 15 was published in 2004.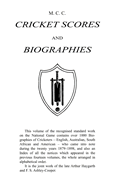 The last Haygarth book published in his lifetime was Volume 14 and he stated in that book "it will be followed as soon as possible by others, if due support is accorded" but unfortunately this never happened.
His unpublished manuscripts numbered 20 and he sold them to H.T. Waghorn, another great cricket historian, who worked at the British Museum. Waghorn donated them to the M.C.C. where they came into the hands of a third famous historian, F.S. Ashley-Cooper. He perused the early manuscripts and produced a 15th volume containing biographies only in 1925.
The documents then languished in the M.C.C. archives, virtually untouched, until 1960 when they were loaned to Rowland Bowen, a fourth cricket historian of some note. He wanted to produce a sixteenth volume to take Haygarth's information up to May 1882, when the magazine Cricket began publication. He set about the task in a different manner to Haygarth in that he decided not to publish every score or bit of information. Using Wisden as a reference he wrote a manuscript giving the scores of each game with the location of the full score if elsewhere, scores only of trivial matches, and full scores of important matches, all in date order. This gave him a book referencing about 1600 games between 27 December 1878 and 20 May 1882. He attempted to find subscribers to finance the project but despite a series of appeals in every journal and many personal letters insufficient support was forthcoming. He returned the manuscripts to Lord's.
At the beginning of 1997 David Rayvern Allen suggested that the M.C.C. might be prepared to lend me the manuscripts for further work with a view to progressing the series. The late Jim Swanton proved a solid supporter and the Arts and Library Sub-Committee agreed later that year to let me borrow the documents. I had no idea of their volume at that time and the size and amount of boxes of papers that Stephen Green helped me put into my car almost made me baulk at the task I had set myself.